Welcome back to my playground, devilish fiends and friends.
This weekend, I'll be at L'Orage Club Echangiste in Montreal, for an incredibly memorable Masquerade party.
So if you missed any of the Halloween festivities this year, or if you still have the appetite for celebrating Hallow's Eve, this is your chance to get all sexy and masked up!
That's right! Halloween's not over!
For the Masquerade party, the evening dress code is mandatory and will be strictly enforced. Masks will be available at the door for those who didn't anticipate the theme night. Here's an idea of what you can and can't wear to the party: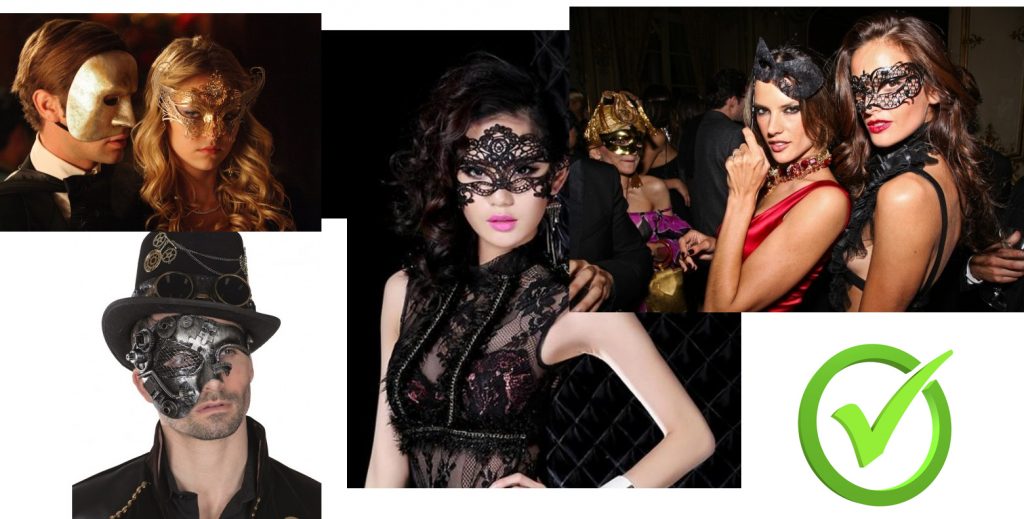 Lacy masks are acceptable (that's probably what I'm wearing), sexy lingerie… really, just use your imagination!
Just please don't come dressed up like this:
There's a time and a place for certain kinds of costumes… and the Masquerade party is not a place for sexy zombies or mummies, or any of the more "festive" Halloween party gear you may have been wearing to your other events.
Think CLASSY when you're getting ready for this party!
Glam yourselves up when you get dressed for the soiree, because we'll be voting on the Best-Dressed couple that night – who will win a free all-inclusive trip, courtesy of SDC to the glorious nudist SDC Takeover in Cap d'Agde, France, in the Summer of 2019! I've been there (check out my blog on Lexi Does Cap d'Agde!), and absolutely loved it – and this is your chance to get there on your own! I'm getting chills just thinking about going back, which I very possibly will this year!
And in case you're wondering, I WILL be part of the jury that will be deciding the fate of the lucky winners around midnight! And I won't be bribed by your lusty promises – so make sure your costume says it all!
I'm waiting for you… Je vous y attend, les coquins!
And if you decide not to come and stay home in your PJs instead, listen to some of the past episodes of my podcast!
For more Lexual news, follow me on Facebook, Twitter, and Instagram!
XXX
Lexi