Amanda Chatel from Shape pens a saucy article about the dynamic of a 'unicorn' in the sexual world with insight from yours truly
Welcome back to my playground, my Lexual friends.
I'm pleased to report that some of my expert advice (and personal Lexperiences) about what it's like to be a unicorn has been featured in a Shape article by writer Amanda Chatel.
In case the term "unicorn" is new for you:
"Unicorns are single females — and individuals identifying as female — who are typically bisexual or bi-curious and open to playing with other people and/or couples. Women who are already in an open relationship can also be unicorns if they explore sexually on their own."

– Lexi Sylver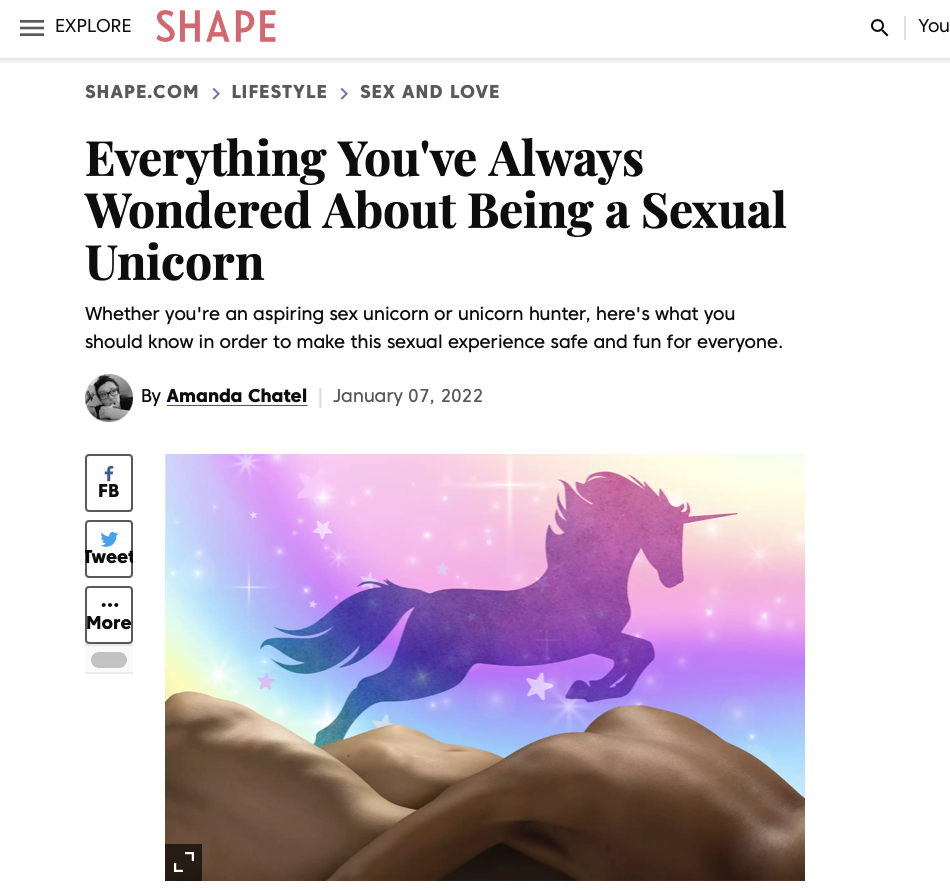 Although it may seem that in this scenario that unicorns are strictly sexual, it doesn't necessarily have to be that way. Being a unicorn could absolutely be about emotional connection and receiving attention and affection from twice as many people in a relationship.
"I don't love the unicorn label, because in a way, it makes me feel like I'm just a piece of meat with the purpose of fulfilling a couple's needs, desires, or fantasies, as though my entire identity starts and ends there," says Sylver. "Even if we're just talking about sex, I'm still a human being, and there's a beautiful brain with many thoughts and emotions that's attached to the body that's giving and receiving pleasure."

– Lexi Sylver on Everything You've Always Wondered About Being a Sexual Unicorn
Want to explore your Lexual desires solo or with your partner(s)? Book a free 15 minute coaching consultation with me to discover how I can help you discover, communicate, and experience your wildest fantasies.
Are you a unicorn, or have you ever played with one? Share your experiences in the comments below!
Until next time,
Stay Lexual, my friends.
XXX
Lexi
Special thanks to Amanda Chatel and Shape for trusting me to share my professional advice with their readers.