Welcome back to my playground, my Lexual fiends and friends!
I've just released my collection of very Lexual erotic short stories, Mating Season! My passion for writing erotica, based on tales of my own life, are condensed into a juicy, 280-page book filled with fantasy and naughty thrills!
As a contributing force to the growing market of erotic literature, I'm awed by the strong female-identified forces that shape this space – like my podcast guest, Rachel Kramer Bussel, who has written and edited countless erotic stories and anthologies.
Why has female-focused erotic literature become so popular in recent years? Often portrayed in mainstream porn from the perspective of a man's journey, a woman's sexual expression is viewed as something that exists for male pleasure; women's sexual fulfillment is less important — or not important whatsoever — during male-centric porn scenes.

But that's changing with female-focused erotica. From the classics to the contemporary, women all over the world are indulging in erotica that focuses on their journeys, fantasies, and personal taste.
Some of the biggest names in erotica are vague and mysterious, wanting to keep a more discreet persona. Who are they? How do erotica writers get inspiration for their stories? Are they shaped by real and personal experiences, or truly formulated by the depths of imagination? In this podcast, Rachel Kramer Bussel talks about her own creative process and unveils the woman behind the erotic literature.
Does erotica help us explore your sexuality and help us break down taboos? Depending on the culture we grew up in, it's common that folks, especially those who are female-identifying, are discouraged by society from pursuing our true sexuality, which is often portrayed as something to be ashamed of. But picking up an erotic novel can take you on a shameless, sensual journey; one that you can keep in the living room bookshelf (or on your Kindle!). You can indulge your curiosities and embrace your Lexuality in a safe, consensual, and exciting new way.
Join me as I chat with erotic author and editor Rachel Kramer Bussel to discover more about the sexy world of erotica.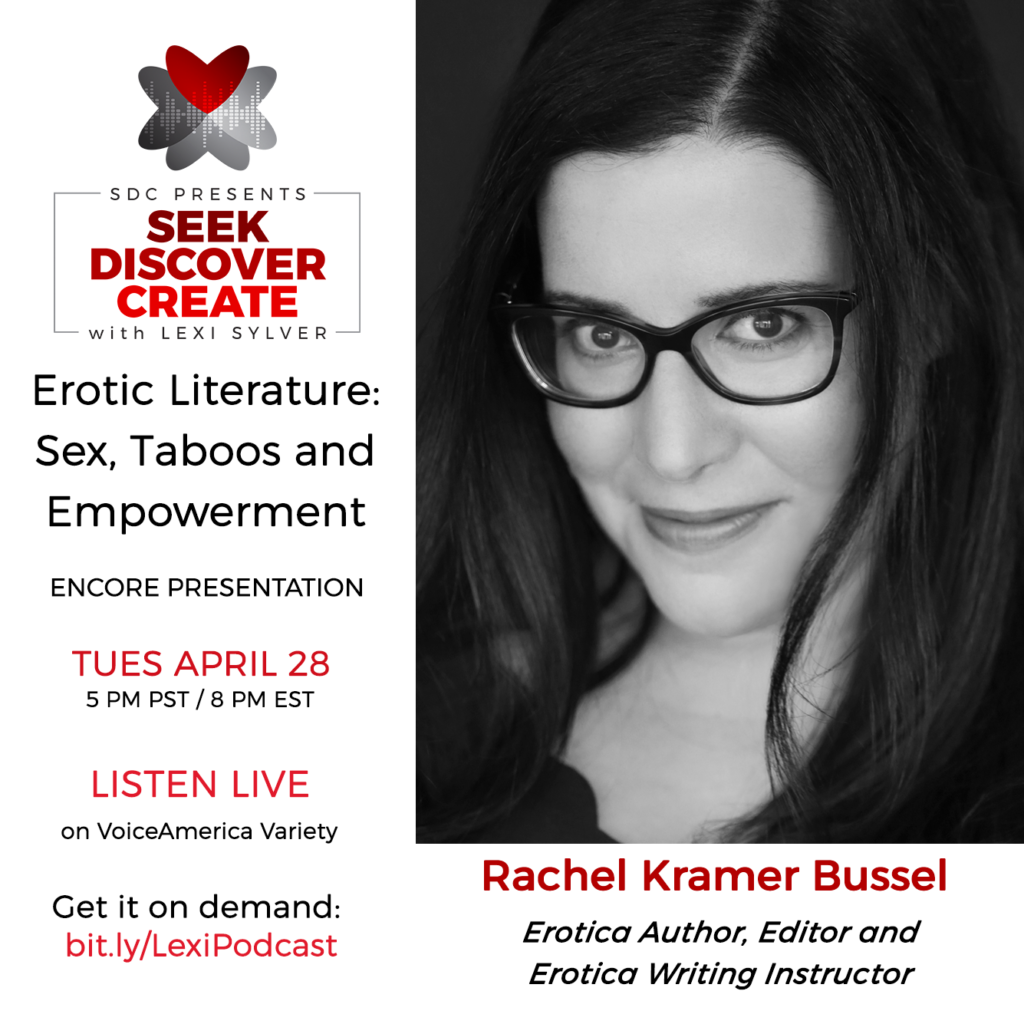 In this episode, Rachel reveals what inspires her to write her erotic stories, and how she first came to start writing erotic literature. We discuss why women's erotica continues to gain popularity and the current trends in the industry. With past themes sticking to the traditional romance in the binary of man and woman, the space is expanding. Exploring the diverse selection of new stories written with representative characters of different backgrounds, we can see multiple gender identities, relationship styles and sexuality. A spot for everyone, our deepest fantasies and adventures can become a part of our imaginations.
Finally, we discuss how female empowerment has contributed to the emergence of erotic stories that break down sexual shame and taboos and explore the pursuit of pleasure. With strong representations of women who own their pleasure, get their needs met, and demand respect, we really CAN have it all.
Rachel and I also answer some questions from the audience during Letters to Lexi.
If you missed tonight's episode, or want to catch up on my podcast, you can listen to episodes on demand on my Voice America channel and via: iHeartRadio
iTunes
Google Play
Spotify
Tune In
Stitcher